This Boss has 65000 HP
and can be found in Divertida Palace.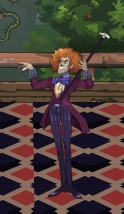 (level 25)
Abilities
Edit
Attack: Medium damage on one target.
Jump attack: Medium damage on everyone.
Creates: Does moderate to heavy damage to everyone.
Critical+1: Increases its critical strike chance.
Heal: Heals himself up to 3250HP
4 gunners, all above level 22 can beat it. A tank is advised and if a warrior is available, ask him to help your team!
Maestro is of a Flying element, and therefore is weak against Ice, Light and Lightning, and strong against Water and Mechanic.