About Warlord Zirhon
Edit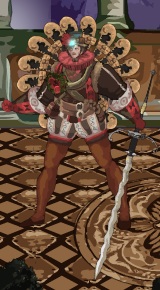 Warlord Zirhon is found in the Sky Tower, after 3 waves of enemies. They are high health, and their attack is moderate.
Special Abilities 
Edit
Normal Attack
3x strike on a single target
AoE
A tank is recommended--it can take the special attack. Also, a healer is strongly suggested. A high-level person could help a lot in defeating Warlord Zirhon.
Warlord Zirhon is of an Earth element, and therefore weak against Water, and strong against Fire and Beast.